About Utah EPSCoR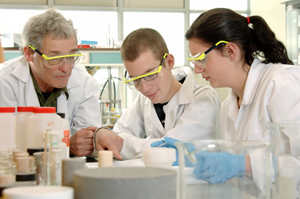 In 2009, Utah was designated a National Science Foundation EPSCoR Jurisdiction.  The Established Program to Stimulate Competitive Research (EPSCoR) status enables Utah to compete for federal research funding opportunities not available to non-EPSCoR states.  Similarly, Utah also qualifies as a U.S. Department of Energy (DOE) and NASA EPSCoR jurisdiction.
EPSCoR was established by National Science Board resolution in 1978, targeting states receiving lesser amounts of NSF funding to build sustainable capacity of educational institutions in those states to compete more successfully.  This program requires broad participation and collaborations.
There are three initial requirements for EPSCoR jurisdictions:  1) empowering a State Program Director; 2) development of a State Science and Technology Strategic Plan with state commitment toward its implementation; and 3) empowering a State EPSCoR Committee.  In compliance with these requirements, the Vice Presidents for Research from the University of Utah, Utah State University and Brigham Young University appointed a State Director.  To fulfill the second requirement, the Battelle Technology Partnership Practice was engaged to develop Utah's Strategic Plan for Science, Technology, Innovation and Talent, scheduled to be completed later this year.
The State Committee membership requires broad, statewide participation including academia, public education, economic development and private industry. Participation on the State Committee from all of these institutions statewide has ben established.
Strategic Objectives have been established by the State Committee:


Catalyze key energy and environmental research and related activities that empower knowledge generation, dissemination and application;


Activate effective jurisdictional and regional collaborations among academic, government and private sector stakeholders that advance scientific research, promote innovation and provide multiple societal benefits;
Broaden participation in science and engineering by institutions, organizations and people within and among EPSCoR jurisdictions;
Empower future generations in science and engineering through EPSCoR Outreach programs.